TENS / EMS Electrodes, Pads, Lead Wires, Straps and More..
---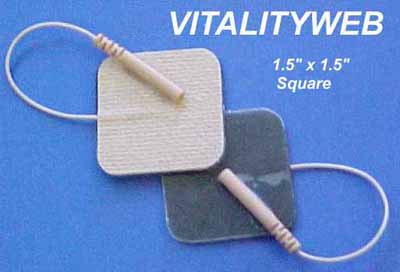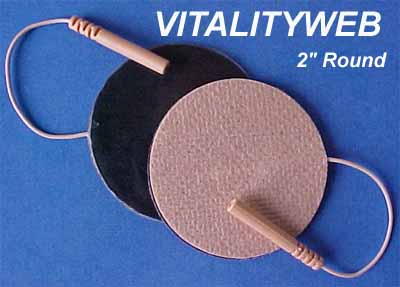 TENS / EMS ELECTRODES - These are our standard premium SELF-ADHESIVE and REUSABLE Replacement electrodes for TENS/EMS units and come in packs of 4. They are cloth backed and have a single 0.08" female pin style connector. These electrodes will work with all of our EMS and TENS units and most other manufacturer's EMS and TENS models. These self-adhesive pads do not need extra conductive gel. The Rubber non-adhesive electrode pads will require a conductive gel for use. For best results, it is recommended that you replace the electrodes as soon as the conductive gel starts to wear down. This will generally occur anywhere from 10-30 uses (depending on use). You can increase the lifespan of your electrodes by keeping them in the air tight package when not in use, cleaning your skin prior to putting the pads on your skin and rubbing a small drop of water on the electrode pad after each use.

USPS MAIL Shipping (5-10 business days) is only $3.50 for up to 5 packs of electrodes. Select "USPS Mail Small Items".
Standard Premium TENS / EMS Self-Adhesive Electrode Pads
VITALTRODE DELUXE Premium TENS / EMS Self-Adhesive Electrode Pads - These Premium self-adhesive and reusable replacement electrode pads combine a unique knitted stainless steel fabric and gel construction which ensures an even distribution of current across the electrode surface while reducing current at the edges of the pads like most standard pads. The VITALTRODE Pads are designed to withstand the rigors of long term usage. Woven stainless steel is used to create a more durable fabric for added comfort and longer electrode life compared to most other brands of electrode pads. A layer of specially formulated conductive gel maintains a smooth skin contact and will last for many usages. Round corners minimizes edge curl during use. Designed to work with all EMS/TENS/FES units.
Click HERE for Conductive Vital Gel for the rubber Non-adhesive TENS / EMS electrode pads

LEAD #1...............LEAD#2................LEAD#3.............ELECTRODES
TENS/EMS Lead Wires (2) Choose Lead #1, #2 or #3 above. $10.00
The Plugs above plug directly into the TENS or EMS unit. The other end of lead wire has two 0.08" male pin style connectors to plug into the electrodes.
Please Note: If you are ONLY ordering electrodes and/or lead wires the USPS Mail Shipping and Handling (1-2 weeks) will only be $3.50 for up to 8 packs or 4. Please be sure to select "USPS Mail Small Items" on Check out.
Home | Products | Catalog | Contact us | Ordering Info
© 1998 Building Body Fitness, All Rights Reserved.